RECYCLING OF SILICON KERF
Recycling of kerf from Photovoltaic Industry
ReSiTec has long experience in recycling and treatment of waste materials generated in the production of photovoltaic materials(PV). ReSiTec has developed and is running a full scale production plant where we recycle and process silicon kerf from PV into new products.
ReSiTec has a wide international network and is participating in several EU projects, working to create a circular economy for PV waste materials (EU Project Cabriss)
ReSiTec has built and operated factories, both in Norway and in Asia, for recycling of cutting slurry. Resitec has patented processes also for recycling of traditional cutting slurry SiC and glycol.
ReSitec offers:
  experienced R&D resources, laboratory and pilot facilities for development services
  solutions for recycling of silicon kerf
  inhouse recycling of kerf and toll manufacturing services
  sales of silicon powder (Product Data Sheet RST99-2 and Product Datasheet RST99-5)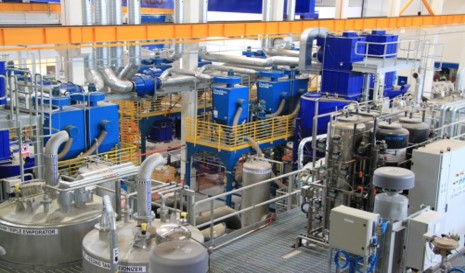 PV recycling plant designed by ReSiTec.
Through production experience and close cooperation with international networks, ReSiTec has gained significant knowledge in powder and slurry handling and treatment. We own a full scale pilot plant, fully fitted with laboratories. ReSiTec offers:
pre-studies, bench scale testing and laboratory analysis – design and development of equipment and processes solutions – testing and verification in pilot scale – characterization and analysis of powder and slurry – process engineering – project execution
ReSiTec pilots